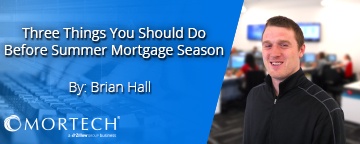 Last week we took an updated look at mortgage quote seasonality, determining whether or not the time of year really makes a difference on mortgage quote volume. As it turns out, it does! (To an extent.)
With that in mind, and as the busiest time for mortgages gets closer, have you thought about what you're going to do to prepare? While the summer and early fall are verifiably busy with a higher volume of mortgage quotes, that doesn't mean they appear out of thin air, nor do they nurture and convert themselves.
Fortunately for you, this increased volume doesn't have to put a strain on your work day or add extra hours into your week – that is, if you're smart about how you approach things. Here are three things you should do right now with increased mortgage lead volume on the horizon.
Get your rates online and keep them updated.
This seems like a simple first step, but its importance is more vital and relevant than ever, as more borrowers are looking for mortgage information online. According to the Zillow housing report, nine out of ten borrowers will turn to an online mortgage resource at some point. If your rates aren't on your website, you're now missing out on the majority of borrowers, not just a chunk of them.
It's not just about putting rates on your site, though. Sending a follow-up email to a purchase prospect? Include your most current rates. Reaching out to past customers? Include refinance rates. Keeping your rates online and reminding borrowers they're there is becoming increasingly important, and not doing so could have you playing catchup against other businesses.
How can Mortech help: Not only does Mortech offer you the ability to generate email campaigns to prospects, but our rate APIs also allow for you to build your current rates into an already existing website. It isn't about rebuilding everything from scratch, but finding a "plug and play" solution you can implement instantly and easily.
Make sure your mortgage application process is online and easy to do.
As more borrowers turn to online mortgage resources, more of them are applying for a mortgage online as well - just over half of home buyers, in fact. As this number continues to trend upward, you'll want to make sure your mortgage application process is not only online, but as simple and efficient for the borrower as possible.
Manually filling out a mortgage application can take a lot of time and effort. However, with the right automation tools, that process can be sped up significantly, without being a detriment to accuracy. By having an online, automated application process, you can empower borrowers to fill out the application on their own time and terms, without requiring too much from them, and in turn, save yourself the time and energy as well.
How can Mortech help: Mortech has worked together with companies like Daric and BeSmartee to provide lenders with an online, easy-to-use mortgage application service. By automating the process and using data to fill in specific fields automatically, the borrower spends less time working through the application, and you spend less time have to check over and process everything once it's completed.
Have a Communication Process Ready to Use
Having your information ready and available online is one thing, but you'll also need to make sure you've got a follow-up process ready for when the leads come in. Say a prospect sees your rates online, and applies for a mortgage through your website – how are you going to contact them? By phone? Email? Are you going to reach out more than once? What if they don't respond?
These are all things you have to think about, and if you don't have a lead nurturing process ready, it can come back to bite you with increased lead volume. By knowing how you're going to reach out to prospects, how often, and what sort of information and messaging you're going to send, you can be prepared for the boost in lead volume the summer brings.
How can Mortech help: Mortech offers a number of customer relationship management tools that allow you to organize and nurture leads as they come in, keeping you on top, and in control, of everything. Not only can you schedule email drip campaigns for clients, but include things like current rates and other offers, keeping your crucial information in front of the prospect at any point.
Whether you're looking to touch up a few things before summer really gets going or need a serious overhaul as greater lead volumes approach, Mortech has the tools you need to be prepared for the rest of 2017 and beyond. Contact as today and find out how you can begin using our mortgage APIs, improved application process, and secondary marketing tools to find success this summer.