Mortech® supplies thousands of mortgage professionals with a number of services and tools, such as all-in-one pricing, rate notification, prospect management tools, custom rate sheets, loan product eligibility and guideline services. Founded in 1987, Mortech is based in Lincoln, Neb. and is owned and operated by Zillow Group (NASDAQ:Z).
By incorporating Mortech's suite of mortgage software offerings into your lending strategy, you'll be able to automate your day-to-day workflow - giving you more time to focus on the customer and grow your business.
How can we help?
Access instant, accurate pricing from multiple investors at the touch of a button.
Streamline your secondary desk with tools such as historical pricing, centralized lock desk, and more.
Automate communication with the borrower throughout the loan process.
Get your rates in front of the internet's largest audiences.
As the General Manager of Mortech, Mr. Foral drives business strategy, product and employee development for Zillow Group's Mortech brand. He identifies new business initiatives with complementing mortgage technology companies and manages the direction of Mortech's current product line. He is also responsible for working closely with Zillow Group's mortgage division to capitalize on product synergies.

Prior to becoming General Manager, Mr. Foral contributed as a national sales executive, Vice President of Sales, and Director of Operations for Mortech. In these roles, he mentored the sales, training, account management and marketing teams, developed many trusting relationships with customers and played a large role in expanding Mortech's product offerings.

Mr. Foral has received several awards & recognitions within the mortgage industry, including "National Mortgage Professional" magazine's "40 Most Influential Mortgage Professionals Under 40" in 2013, 2014, and "HousingWire" magazine's list of "Rising Stars" for 2015.

Mr. Foral received his Business Administration Degree from Nebraska Wesleyan University in Lincoln.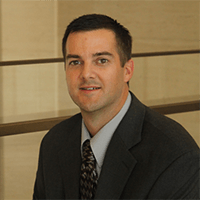 As Group Manager of Mortgage Tools at Mortech, Jason Steele directs all technical operations for the company. From the early beginnings at Mortech, Mr. Steele's innovative and determined leadership skills shaped the IT direction, virtually creating Marksman, Mortech's flagship product. Mr. Steele is in charge of product architecture, implementation and operations. He manages Mortech's technology infrastructure, leads a staff of talented programmers and successfully aligns technology initiatives with Mortech's business priorities.

Before joining Mortech, Mr. Steele was at Interact Incorporated as a member of new development staff responsible for designing and building front end administrative tools for prepaid calling systems.

Mr. Steele has a Bachelor of Science degree in Computer Science from the University of Nebraska in Lincoln.