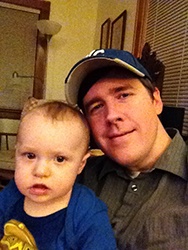 This week we're showcasing System Administrator, Matthew Baxa. Matthew has been at Mortech for nearly four months now. He's married to his wife, Ann, and the two of them have a son together, 20-month-old Jonah.
Favorite things to do on his days off: Read.
Favorite place to travel: Yellowstone National Park.
Favorite time of the year: The fall - cooler weather and football!
Favorite thing about working at Mortech/Zillow: Being part of a great team!

Favorite feature of Marksman: Online Rate Quoting. We're always working to push our customer's rates online to the most possible potential borrowers.

Marksman Insider Tip: As an admin, make sure you're enabling access to all of the different loan products available within Marksman. Being able to utilize products like ARM loans can help expand your business and bring in more potential borrowers.

To view the previous Meet Mortech, click here. Or to learn more about Marksman, you can click here.