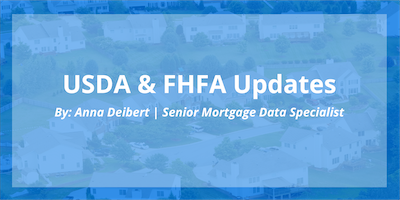 As we enter the second week of February 2021, we wanted to share a few upcoming agency updates that you should be mindful of.
USDA announced in a recent bulletin on February 3rd that Single Family Housing (SFH) is increasing the appraisal fee to $700 and the conditional commitment fee to $775 under the direct programs. This is a $100 increase from the previously $600 and $675 fees respectively. These new fees are to take effect 30 days from the announcement date. Prior to 2020 the fees were rarely assessed and adjusted but moving forward, these fees will be assessed and adjusted annually.
The FHFA agencies, Fannie Mae and Freddie Mac, announced on February 3rd that they will be retiring the Constant Maturity Treasury (CMT) indexed ARMs. Fannie Mae's Lender Letter LL-2020-05 and the Freddie Mac Bulletin 2020-4 revealed this change will be effective this summer on July 1, 2021. Applications for CMT ARMS must be fulfilled by June 30th, 2021 and will need to have been purchased as a whole loan by September 30th, 2020.
The last day for purchase was December 31st, 2020 for FNMA and FHLMC LIBOR indexed ARMs. The LIBOR index was replaced with the SOFR index. For conventional nonconforming loans, the LIBOR index is slated to terminate at the end of 2021. You can find the list of investors that have SOFR products live and ready for quoting in our pricing engine on our website.