As a mortgage lender, keeping your online rate tables updated is vital for presenting only the most accurate information to borrowers. Delaying rate updates can cause potential customers to be misinformed, and result in a less than favorable first impression for your brand. It's this fear of getting off on the wrong foot that has many lenders constantly posting and updating their rates, trying their best to maintain accuracy and trust with their borrowers.
This process takes time though, and having to stop what you're doing each day to update rates not only throws repeated breaks in your schedule, but can cause for extensive delays in other day-to-day operations. Say you're updating rates, and it takes you 15 minutes to do so. Multiply that by the number of lead sources you're posting them to, and that's how much time you're spending every time you need to update your rates. That can add up quickly!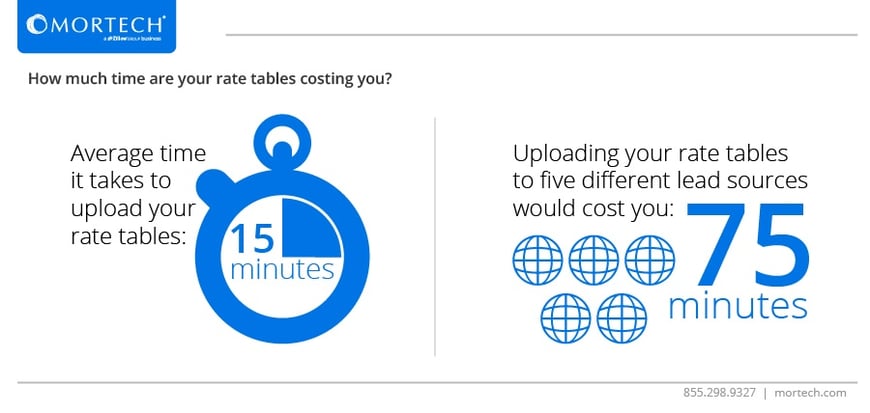 Spending an hour or more every time you update rates isn't the best way to spend your working hours, and doing so multiple times throughout the day for multiple rate changes is even less efficient. Fortunately, you have another option: Mortech. Mortech can post your rate tables for you automatically, as soon as they're updated. Instead of taking multiple hours of your work day to update your rates, you can focus on the rest of your business – knowing that Mortech is updating your rates whenever needed.
Mortech doesn't just keep your rates updated though. We also post your rates to top online marketplaces like Zillow, Bankrate, and LendingTree, ensuring that they're being viewed by thousands of online borrowers every day. After all, having rates updated quickly and accurately doesn't mean much if you aren't getting visibility. Let Mortech expand your reach and footprint, all while saving you time.
Talk with us today about how Mortech can upload and update your rates, and get you exposure to online borrowers every day, without all the hassle.