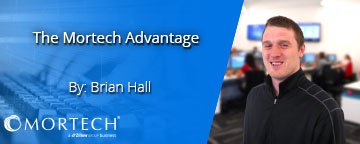 In the growing world of mortgages, looking for the best way to expand and improve your business can be hard. Finding something that fits your company, and will work for you to create better business opportunities - rather than work against you - can take a lot of time and head-scratching, as making the wrong choice can be a huge detriment to your business. When it comes to finding the best mortgage pricing engine to save you time and build your audience, however, Mortech makes it easy to choose the right option. With our mortgage pricing engine, Marksman, you not only save time and money on day to day operations, but also grow your audience with our easy to use, 100% web-based software
Saving You Time
One of the biggest things standing between a mortgage lender and their ability to grow their business is time. There are so many different processes in the mortgage industry that take up valuable time that lenders would rather spend looking for and talking with leads, and looking to convert those leads into borrowers. The more time you spend on the process means the less time you spend on the leads, and nothing hinders lead growth and conversion more. Fortunately, Mortech provides solutions to all of those time consuming processes, giving you back hours that would be otherwise wasted on things that aren't helping your business grow.
Think about it like this, when calculating rates, let's assume it takes the normal loan officer 45 seconds to manually grab base rates and adjustments from an investor rate sheet to calculate the rate. If a bank is selling to ten different investors and wants to perform best ex, that would take seven and a half minutes to check the base rates. Let's also assume it takes two minutes to add fees and calculate APR, which takes the scenario up to nine and a half minutes. Now let's estimate that it would take the loan officer another four minutes to verify loan eligibility and calculate QM eligibility and HPML, creating a total of 13.5 minutes. If the average community bank's loan officer gives five quotes per day over the course of 20 business days in a month, that would be 22.5 hours spent just calculating calculating rates.
With Marksman, you can gain access to all of your investors' rates automatically, comparing these automated rates at the touch of a button. You don't have to waste time looking for rate sheets and cross-referencing between investors. Through the power of Marksman, you have access to everything you need, all on one screen.
Marksman provides a variety of mortgage specific tools to help streamline mortgage operations - like rate calculations - that would typically swallow up valuable time. As a 100% web-based software solution, these tools come without the additional cost and maintenance associated with on-premise, hardware based solutions. Our mortgage pricing engine not only saves you time by streamlining these processes, but also the money it would typically take to maintain them.
Grow Your Audience
Mortech supplies lenders' rates to sites like Zillow, Bankrate®, and LendingTree®, reaching thousands of online borrowers everyday, and processing over 12 million rate quotes on a daily basis. It isn't just your rates that Marksman automatically puts online, but also any rate updates and changes that occur as well, keeping what the borrower is seeing accurate and up-to-date. By using Marksman, you'll be reaching more online borrowers every day, with the most accurate depiction of a product you can offer.
Growing and maintaining your online audience goes beyond simply exposing your rates to more borrowers; building and maintaining relationships with your borrowers, as well as expanding your online footprint and presence are major keys to success. That's why we also provide a robust array of marketing tools that help you provide these necessary services to your borrowers. With Mortech, you can create a custom mortgage website for your business and lenders, which is completely customizable to fir your needs and desired design. Already have your own website, but need a specific tool or solution? By integrating our consumer tools into your site, you can provide that small piece your consumers need, without having to build an entirely new site.
Stay in touch with borrowers throughout the process of the sales cycle using our marketing email campaigns. Maybe you're looking for the last thing to push to a borrower to get them to convert, or you're early in the process and simply want to keep in touch. Regardless of your need, Mortech can provide you with the ability to design and execute custom email campaigns to serve as consistent contact with your leads, and establishing you as a point of contact with valuable information that they need.
Get Started Today
With Marksman in your corner and all of the valuable tools and customer support Mortech provides, you can start growing your business, expanding your audience, and closing more loans. Still need to be convinced? Sign up for a free demo with us today, and find out how you can start utilizing everything Mortech offers to better your mortgage business. You'll be glad you did.