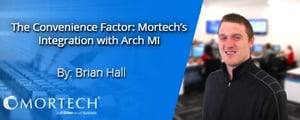 Last week, Mortech announced a new integration with Arch MI. Through this integration, all Mortech users get immediate access to Arch MI RateStar quotes included in every applicable scenario, resulting in a faster workflow when Mortech users quote mortgage insurance-eligible products.
How? For starters, they'll be able to access RateStar from directly within Marksman. In the typical workflow for quoting MI-eligible products, a user would have to log into their pricing engine to price a product, then log in separately to RateStar to view any applicable MI information. Now users can access both through the Marksman interface, and the scenario is automatically sent through RateStar.
Even better, the RateStar data you receive is specific to your business, and is based on your master policy number. By inputting your master policy number into Marksman, you'll get live pricing from RateStar that's accurate and competitive, matched precisely for you. You don't have to worry about generic pricing that isn't pertinent to you – our integration securely transfers over the data you need so that you can quote the best rates.
Our integration with Arch MI is the latest way in which we're improving the way our users do mortgages, speeding up the process for convenience, accuracy, and the ability to do what's important in your-day-to-day. To find out more, talk with us today.