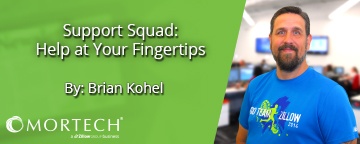 How many times have you had a question pop into your head late at night, long after people in your office or anyone who might know the answer has left for the day? Chances are too many times, and we've had the same thing happen to us too! We've recently launched our online Help Center to assist in any after-hours questions that might arise.
The Help Center allows for our customers to find help and answer their questions whenever they need them. Some of our most common issues we hear about are addressed in the Help Center already, but it doesn't stop there. This is an ever evolving project, and we encourage you to utilize it whenever possible, and we recognize it is still in an infant state of development. That's where you come in, if you have a question you feel should be addressed in the Help Center let us know and our documentation team will work on getting it added.
The Help Center can be accessed in Marksman by hovering over your 'Help' menu and clicking on 'Help Center'. Mortech wants you to be successful in getting a question answered whether it's 11am or 11pm, and the more feedback we receive the better the resource is going to be for all of our clients going forward. Again, reach out to support@mortech.com for any requests of information being added to the Help Center.