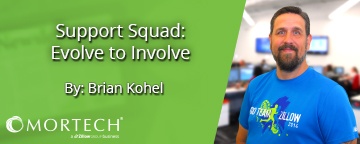 Over the last week I have had the opportunity to attend Parent/Teacher conferences for my children, getting to know their teachers and talking about my kids' progress through school. The whole process has changed dramatically since I was a student; now parents can stay up-to-date with homework, grades, activities, as well as communicate with the teachers via their landing page on the school website. It hasn't been that long since I was in school (at least, that's what I'm telling myself) and the entire experience has evolved, giving parents more opportunities to be involved. At the simple click of a button I can communicate with my child's teacher, not only on parent teacher conference night, but any day throughout the school year.
So how is your company empowering your potential borrowers? How are you getting knowledge into their hands? Is it easy to find your staff to communicate? Mortech understands communication with borrowers is key, even if you've never spoken to them, so we offer up Lender Websites as a solution.
Lender websites tie directly into your Marksman pipeline, giving your company and loan officers their own landing page, making for a better borrower experience. Company Information, Borrower Education, and even individual loan officer pages are just a few ideas you can implement onto your website. As I have written about in the past, with more and more mortgage shopping starting online, be sure you have not only a presence online, but a user friendly presence.
Just like the experiences I've had with my children's teachers, with the help of the online tools, I go into these conferences well informed and less time is spent catching me up to speed and planning for my child's future successes. This is the experience you can have with you borrowers too, if you have the information for them on your website, by the time you first meet you will be that much closer to closing a deal!
For more information about this feature please call your Mortech Sales representative or email sales@mortech.com. Or, if you're not a currently a Marksman user and want to find out how you can be, you can find more information from the button below.