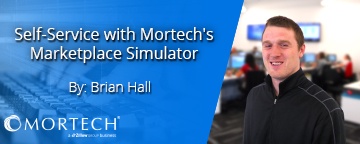 The ability to test changes and monitor how they impact business is a huge advantage for any company. The testing process is critical for companies that want to try new things, and see if the changes they're making are having a lasting and positive impact on their business. However, without the right tools and setup, this testing process can be slow. You need everything in one place, and operating at the fastest possible speed so that you aren't wasting all of your time testing, and instead spending your time implementing and reaping the benefits of these changes.
With Mortech's new Marketplace Simulator, mortgage lenders quoting online now have that exact space they need, complete with all of the tools to make things like pricing verification a breeze. Lenders can even check the competitiveness of their rates, and how these profitability changes can have an impact on as well as how they're listed for certain borrowers.
Lenders can not only test these changes from within the simulator, but can do so on a single user interface, saving time spent otherwise clicking back and forth to cross-compare different products and changes. This single interface provides specific, granular information that allows for lenders to have all of the information they need on pricing verification and make the best possible scenario changes.
Ultimately, this self-service tool allows lenders to internally audit their online pricing, test pricing scenarios and issues, and keep the time spent monitoring, correcting, and changing their online pricing to a minimum. And once everything is completed, the Marketplace Simulator updates online pricing in real time, meaning any changes a lender ultimately decides to make go live right then and there, keeping the information a borrower sees as accurate as possible.
Still wondering how this new tool can benefit you, or want to know how to get started? Reach out to your Marksman account manager today and ask them how to start working in the simulator. Not a Mortech customer? Reach out to us today to find out more about the Marketplace Simulator, as well as our other online quoting solutions and tools.