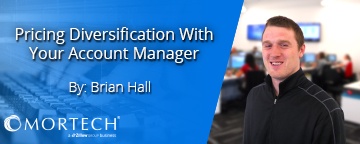 Believe it or not, the mortgage businesses can learn a lot from sports.
Even the highest paid athelete needs a great coach. Think of an ace pitcher or star quarterback; without a great coach to scheme and use their strengths for the better, they'll have a tough time being successful.
This isn't much different from mortgages. Imagine you and your business as the quarterback; you want to put your business in the best place to succeed, and with a lot of competition in things like online rate quoting, finding a coach that can help you use what your business does best to find success is a must. That's where Mortech comes in.
Our account management team acts as your coach, using the things you're good at to find the right places to quote your rates online based on audience and how your businesses' skillset applies. For example, most lenders try to find the online marketplace with the largest borrower audience. However, those marketplaces also have the highest competition of lenders looking to showcase their rates. To counter it, most lenders end up adjusting their margins to compete, which negatively affects revenue in the long run.
Instead of burning all of your online advertising monthly spend on shrinking margins in a crowded lead source, you can find a lead source that allows you to diversify your pricing. You don't have to stop paying attention to the larger lead sources like Zillow® or Trulia®, but you can also find success on smaller lead sources like Nerdwallet® or Quinstreet that can have additional opportunities without the same overhead.
Our account management team is experienced in the mortgage industry, and they're constantly looking to find ways for our users to succeed. Because of the data Mortech and Zillow Group collect, our team can pinpoint what works best for you based on what your business is good at, and what audiences you cater the best to. They're more than happy to start the conversation of pricing diversification with you. However, making the first move and asking your account manager to find you ways to diversify your pricing is a great way to utilize the wealth of mortgage knowledge and experience available to you, without having to spend a lot of your own time and effort.
Stop feeling like you have to shrink margins and compete across the larger lead sources for borrowers. Talk to your account manager today and discover new strategies to diversify your online quoting and start working on lead sources that can use your strengths to your advantage. With Mortech coaching you along the way, victory is all but assured.
Not a Marksman user? Contact us today to learn more about Mortech's mortgage pricing engine and our online rate quoting tools. You'll be glad you did.