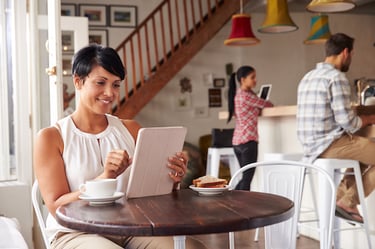 With 53% of buyers using online resources when looking at financing options, according to Zillow Group's 2019 Consumer Housing Trends Report, having mortgage rates from Mortech's pricing engine integrated into your digital point of sale platform is a great way to present a consistent experience throughout the loan process. With point of sale integrations, Mortech is looking to improve the digital mortgage experience not only for lenders, but home buyers too.
Singular platform throughout application process
The mortgage application process can be daunting for many, especially for new buyers. Millennials specifically, are looking to do everything online including researching mortgage rates.
Having accurate pricing integrated into a point of sale platform helps make sure everything from the beginning of the process to the end is centralized in one online dashboard. One less tab that a borrower has to have open while researching and completing their home financing makes for a more productive and happier customer that can keep moving forward to accomplish an on-time closing.
Product and pricing transparency to borrower
Providing not only instant rates, but also accurate pricing from a portfolio of investors is a must to help culminate a trusting relationship with a borrower. With rates being run multiple times daily, in a matter of minutes you know that you have the best ex capability to choose the top investor for each borrower scenario. See a raise in customer application rates by allowing customers the option to interact with rates on their own time. Having the freedom and opportunity to see exactly what can be available to them versus just a single number given by you or a computer, borrowers feel like they have control of the situation and can feel more confident in their home financing decisions.
Streamline loan officer workflow
Having to keep tabs on every step in the mortgage process can take you away from what you want to focus on – building borrower relationships that last through a lifetime of home purchases. With our intuitive workflow you can manage all pricing strategies online through a single solution that will streamline and automate your day-to-day operations as well as help raise your customer satisfaction scores by providing your borrowers with an easy to use interface that includes accurate rate data. You shouldn't feel that you are forced to work in a system or a group of different systems that don't work well with your business flow. With having Mortech pricing integrated into whatever point of sale solution your business currently uses you will be able to have the instant and accurate pricing you so desperately need to succeed while using the one solution that makes sense for you and your company.
Integrating your point of sale platform with Mortech's pricing engine will help create that seamless, consistent experience for all borrowers shopping online for their mortgage rates as well as keeping your leads organized and your business moving forward. We have a great selection of point of sale partners already and are always looking to add more platforms. Contact us at sales@mortech-inc.com to learn more about how you can improve your mortgage process and tools by integrating pricing into your point of sale.