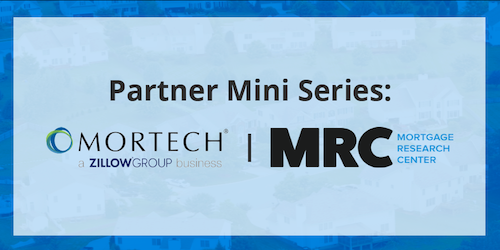 Here at Mortech we pride ourselves in the great partnerships we have with various companies in the mortgage space. Point of sale integrations, loan origination systems, rate marketplaces and more - with these partnerships we are looking to automate day-to-day workflow for lenders so they can spend more time on growing their business and creating relationships with their customers versus manually pushing leads through the mortgage process.
Our first rate marketplace partner that we want to showcase is Mortgage Research Center. Mortgage Research Center (MRC) creates mortgage experiences for a variety of brands to help them produce licensed leads in the United States. These experiences range from personal finance to home search, realty, investments and mortgage specific content that allows borrowers to easily connect with the right lender.
Mortech and Mortgage Research Center (MRC)
MRC, as we mentioned above, is a rate marketplace partner with Mortech. With this partnership they will provide mortgage rate solutions for their network of mortgage lenders and partner websites. The ultimate goal for both Mortech and MRC is to combine MRC's successful mortgage lead generation products and technology with Mortech's Ratecloud API to attract even more qualified mortgage customers. By giving potential borrowers the opportunity to compare mortgage rates and lenders, MRC is hoping to see a higher conversion throughout the process.
By partnering with Mortech, Mortgage Research Center is able to be a better resource to highly motivated homebuyers looking for more information on lenders and their available mortgage rates. They can now convert these customers and connect them with a lender for their immediate homebuying or refinance needs.
Mortgage Research Center is hoping to have the rate product ready to launch by the end of this month in a variety of different formats across their different properties.
2020 roadmap
Through the rest of 2020 Mortgage Research Center's efforts will be focused around continuous optimization of their rate products. MRC has over a decade of lead generation experience, along with dozens of lead generation products across many sites. Their main goal with this partnership is to work on improving customers' mortgage experiences.
With Mortech's Ratecloud API, they can now expand this goal by pushing rate products to more and more of their partner sites. "We are looking forward to testing several different implementations and hopefully find some new features that make it easier for our customers to feel confident in their decisions," says
Lyndsey Dunn, Product Marketing Manager at Mortgage Research Center.
Mortech is also extremely excited for this new partnership, as we are always looking to diversify the scope of partners that we work with to provide customers with all of the rates possible for their specific scenarios.
Mortech Rate API
Our Rate API integration is a great tool for marketplace partners to use because it provides your customers with all available rates for their specific scenario. With access to our database of the nation's most experienced lenders, you can feel confident that you are providing your customers with the best resources for their financing needs.
If you are interested in learning more about this partnership - and how you can utilize Mortech's Rate API with your own business model - please reach out to us at mortechmarketplaces@zillowgroup.com.