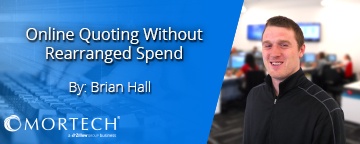 We've written about the advantages that come with online quoting through Mortech. We can help you get your rates in the right online marketplaces to thousands of borrowers through lead sources like Zillow®, LendingTree®, and Bankrate®. However, we can also get your rates on lead sources that can play to your strengths when it comes to quoting specific products and/or to specific buyers. Our account management team has years of mortgage experience, and are well-versed in finding the right fit for mortgage businesses who are trying to do online quoting.
We also have easy-to-use rate APIs that allow you to utilize valuable mortgage data and improve your customer experience for online mortgage rate shoppers. Our APIs have grown from merely a rate table shopping experience, and can now do things like check eligibility information and capture borrower information in short or long form.
One other advantage is that Mortech doesn't require a monthly spend to use our mortgage pricing engine. Simply put, we don't care who you advertise with or how much your budget is with each lead vendor. There's no minimum monthly spend, and no having to rearrange your monthly spend just to use our pricing engine. With Mortech's mortgage pricing engine, you can work with the advertisers and lead vendors you want, and we'll take care of keeping your rates accurate and available with the click of a button.
If your business is currently advertising rate quotes on online mortgage marketplaces, or is trying to start, the answer for who to work with to get your rates posted online is simple. Not only does Mortech post your rates to the best online marketplaces for your pricing strategy with the best tools, but we also do so without you having to worry about how much you're spending each month.
Contact us today and learn more about online quoting, and how Mortech can help you get your rates in the right places without the stress of monthly spend.