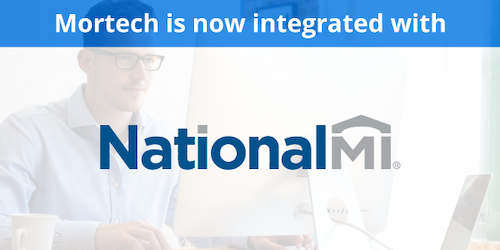 Earlier this week, Mortech announced a new integration with National MI® Rate GPS that will allow lenders to quote live mortgage insurance premiums from National MI's Rate GPS within Mortech's product and pricing engine.
By using our pricing engine platform to quote live MI, lenders can confidently compare scenarios in a single location for a more efficient workflow that:
Decreases LO cycle time
Provides up-to-the-second, risk-based pricing
Increases productivity levels
Creates a better borrower experience with quicker response times
With these integrations lenders will no longer need to research MI through separate, time consuming workflows. They can now compare MI pricing across supported partners within our PPE giving borrowers the most competitive MI pricing available.

National MI is the second mortgage insurance company we have partnered with after Arch MI. These continued integrations and updates to our pricing engine will improve the way you assist your customers with their home financing needs and help foster a less time consuming and more automated daily workflow. Contact our sales team to learn how you can gain operational efficiencies using our all-in-one pricing engine platform.