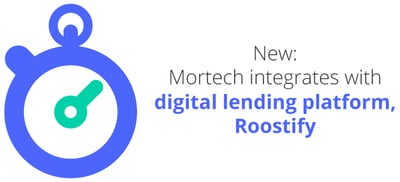 We are excited to announce that Mortech is partnering with Roostify, a digital lending platform that gives customers more control of their home buying process while allowing loan officers to utilize the latest technology to more easily process loans. With this new integration the two solutions are looking to improve the digital mortgage experience for industry-leading lenders.
The first step of the integration went live on March 26th, with additional integrations happening in the near future. This partnership is looking to streamline the entire digital lending experience. By providing accurate mortgage quotes from Mortech's pricing engine into the Roostify platform lenders will see decreased closing times and increased margins.
Roostify, with their innovative and integrated platform, are transforming the mortgage industry. With their three-step process of converting, engaging and then closing the customer transactions they are creating a better home buying process for both loan officers and mortgage borrowers. Mortech is using this technology with our pricing engine to provide the customers with compliant rate data as well as a customized brand experience.
Our integration with Roostify is going to play a big role in our overarching goal of streamlining our users' daily workflow and keeping everything as simple and stress-free as possible. For more information on this service please contact our Mortech Sales via email sales@mortech-inc.com or call 1-855-298-9327.