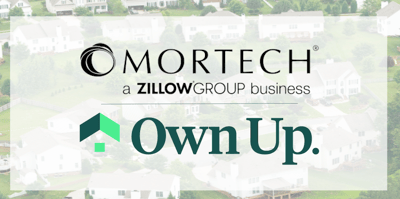 We are excited to announce that Mortech is now integrated with Own Up, a mortgage marketplace with a goal to bring clarity and ease to digital borrowers beginning their journey in the outdated mortgage industry. With this new integration, the two solutions are looking to provide every aspect of the digital mortgage experience to home buyers in one easy-to-use platform.
Own Up is excited to be providing both lenders and home buyers a new approach to the mortgage process by working to connect buyers with real people. After building a profile on the website, home buyers will be matched with a dedicated Own Up advisor that will be there to assist throughout the home financing process. Own Up also provides home buyers with live mortgage offers from their database of top-rated lenders so they can compare rates based on their specific scenario. To round out the platform, home buyers can also utilize the budget calculator to let potential home buyers see how much they can afford as well as have the ability to update pre-approval letters on demand (first in the industry).
For-purchase mortgage applications sat 27% above last year's numbers in the third week of August, which shows that people are still buying and selling homes despite COVID-19. With home shoppers looking to stay safe indoors, most are going online for the resources to complete the process. By utilizing Mortech's online mortgage rate quoting platform, our mutual lenders can now provide live mortgage offers out to digital purchase borrowers who are utilizing Own Up's platform.
This new integration with Own Up is going to play a huge role in our goal of simplifying the digital mortgage process for homebuyers, as well as make it easier for our lenders to grow their business' by providing offers out to additional markets. For more information on how you can leverage this integration in your current business flow please contact our Partner Relationship Manager, Mike Russell, at mikeru@zillowgroup.com, or reach out to your Customer Success Manager.