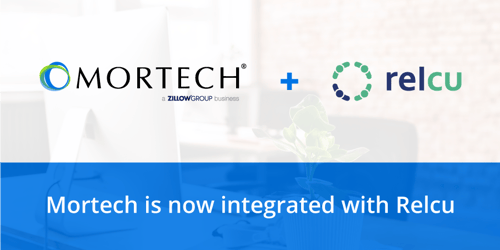 The mortgage industry continues to digitally transform using technology to automate sales and operational workflows into streamlined processes for both borrowers and lenders. With partnerships like Mortech's newest integration with Relcu, industry professionals are working together to give lenders like you, a platform to accurately advertise your real-time mortgage rates and loan proposals to borrowers who are researching home financing information online.
Our recent pricing integration with Relcu, a lead-to-funding lead management and CRM platform, helps you to unify lead management, distribution, and segmentation, omnichannel communication, marketing and workflow automation, and loan pipeline management. Both companies understand that loan officers often work in disconnected systems using siloed data that can negatively impact operational productivity and quality of service for customers. With real-time mortgage rates from Mortech's pricing engine and Relcu's end-to-end customizable platform, you'll see a unified lead and loan pipeline management process resulting in increased lead conversion and customer lifetime value and a decrease in loan production costs.
"We are excited about the partnership and integration between Mortech and Relcu. By integrating Mortech's real-time, accurate quotes within Relcu CRM, lenders can provide greater transparency and service to their borrowers resulting in better conversions and lifetime customer value", says Abhijat Thakur, CEO, Relcu.
Lenders leveraging this integration will also benefit from a more seamless and connected experience through an API. Additional benefits of this integration include:
Single application for a loan officer from lead-to-funding
Enhanced loan officer toolkits with more efficient rate sharing capabilities leading to higher lead conversion
Ability to add dynamic content and rate personalization to marketing campaigns
Aggregated customer data insights to adapt to the dynamic environment

Contact our sales team to learn how you can leverage this integration to more effectively target your sales and marketing to potential borrowers with more accurate rates, proposals, and engaging and personalized content.