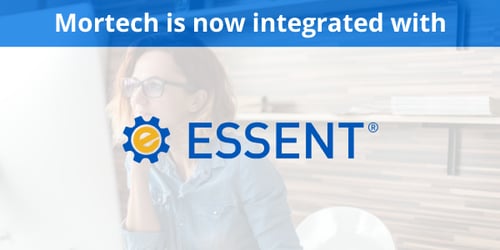 Last week, Mortech announced the addition of private mortgage insurer, Essent, to their growing list of industry-leading mortgage insurance (MI) providers. Through this integration, lenders can now quote MI premiums through Essent's risk-based pricing engine, EssentEDGE®, within Mortech's product and pricing engine platform.
With access to up-to-the-second MI pricing options from Arch MI RateStar®, National MI Rate GPS®, and now EssentEDGE®, lenders can more confidently compare scenarios to give borrowers the most competitive MI pricing available. Our live MI quoting feature ensures a more efficient workflow that:
Decreases LO cycle time
Provides real-time, risk-based MI pricing
Increases productivity levels
Creates a better borrower experience with quicker response times
Additionally, our pricing engine platform offers BestEx pricing across supported investors that includes lock workflows, change in circumstance historical pricing, as well as our MI quoting feature. Our customers see competitive pricing, variable contract terms, unparalleled customer support, quick onboarding time, and more reliable service uptime when compared to other PPEs in the market.


Once signed up as a Mortech customer you will be notified as we add additional MI partner integrations to our pricing engine, so you can easily enable this feature and take advantage of even more competitive pricing options for your borrower network. Contact our

sales team

to learn how you can gain operational efficiencies using our all-in-one pricing engine platform.