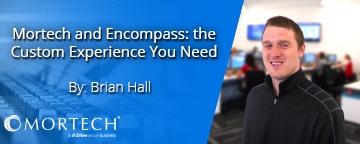 When looking for a pricing engine with secondary desk capabilities, you might feel like you have to settle for something that isn't made specifically for your needs. Mortech understands the frustration that can come from this – not every mortgage business is the same, nor do they have the same needs – and finding a system that is made for you and your business to be successful can feel like a challenge.
However, through Mortech's integration with Ellie Mae®'s Encompass LOS, you can build a custom, detailed experience for your business. No more settling for something that doesn't fully fit your needs; our integration can completely overhaul your secondary desk operations.
A customized experience for you
With Mortech, the experience you get is entirely customized for your business's needs. Within Encompass, you can enable the specific Mortech settings you need, such as the ability to auto-lock loans, and utilize the tools and features that help you and your business. No having to learn features that aren't relevant to you; simply turn on what you need, and you're good to go.
You can also customize your investor and product mapping between Mortech's PPE and Encompass. Having everything set up perfectly for your LOs to avoid confusion or constantly having to look for investor pricing or products can be a hassle. But being able to map those things specifically to how you want saves you and your business time, and maintains efficiency.
The devil is in the details
Efficiency and speed is all well and good, but where our integration can really help your business is the detail with which you can view scenario information. Through seamless data integration, you can pass detailed profit information directly to your Secondary Registration screen. This saves you the time of having to reenter the data, and keeps all the details your secondary desk needs to know.
Once you have your quote, you can return a detailed quote PDF directly to the eFolder, so that you can go back and view it at any time. This information is passed securely between Marksman and Encompass, ensuring that your data is safe and secure throughout the process.
Keeping your experience customized and detailed for your needs is something we take seriously. Integrating with Encompass allows us to provide that experience while keeping your data secure.
Want to learn more? Contact us today and find out how Mortech's integration with Encompass can provide you with the custom secondary experience you need.