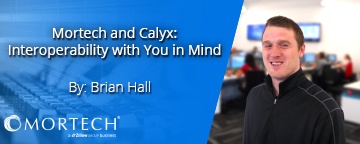 Streamlining your daily operations for a more efficient business is something we're constantly working toward at Mortech. Integrating our pricing tools and services into industry leading Loan Origination Systems is one such way in which we work.
That's why we've partnered with Calyx. Through Marksman's integration with CalyxPoint, users get the best of both worlds from a single interface.
Prospect and Compliance Info from Point
With the integration between Mortech's mortgage pricing engine and Calyx's loan origination system (LOS), CalyxPoint, users can access information from one system into the other thanks to seamless data transfer between the two. That means while in Marksman, you can pull prospect information directly from Point and view it within our PPE's interface. When pricing loans from Marksman and locking loans, you can still view prospect information without having to bounce between screens and systems. Everything is streamlined for you to view and complete your daily workflow as efficiently as possible.

With automated QM and HOEPA compliance checks directly within Marksman, you can be sure everything is compliant. Once done, the data is all compiled and sent directly back to CalyxPoint, keeping your data safe and consistent, without you having to manually re-enter it and risk entering incorrect data.
Prospect and Compliance Info from Point
Additionally, you can also pull Marksman rate and pricing information directly into CalyxPoint. When viewing prospect info in the LOS, you don't have to log into your pricing engine and run the scenario to find out what rates a borrower qualifies for. This reduces the complexity of the mortgage origination process, and allows you to keep everything confined to one interface, with automated checks and data transfer that keep things safe, smooth, and efficient.
Our integration with Calyx has played a big role in our goal of streamlining our users' daily workflow and keeping everything as simple and stress-free as possible. Want to learn more? Reach out to us today and find out how we can get your mortgage business running smoothly.