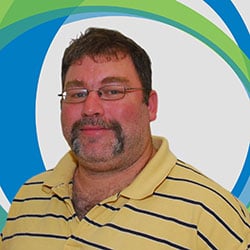 This week, we're showcasing Associate Account Manager Chris Gibbons. Chris has been working here at Mortech for almost a year and a half now. He and his wife, Shawna, have been together for almost 8 years. He has no children of his own, however he does have four stepchildren and four grandchildren with whom he loves spending time with. They also have a Shitzu who is almost four years old and hates the cold but loves to cuddle up with just about anyone who walks through our door.
Favorite things to do on his days off: I love playing Poker, particularly at the casinos. I also enjoy watching movies & football with Shawna, and playing games with the family. Generally anything I can do while spending time with the wife and family.
Favorite place to travel: Wherever you can find a good casino poker room and great entertainment…Vegas, anyone?
Favorite time of the year: My favorite time of year would be early spring and late fall with the brisk mornings, beautiful afternoons, and cool evenings.
Favorite thing about working at Mortech/Zillow: The people with whom I work.
Favorite feature of Marksman: My favorite thing about Marksman is the ability for administrators to control their Marksman account. Whether it is entering adjustments or profits specific to their business needs. It's an all-in-one software and once someone learns the features/tools, they can take charge of their marketing, profits, lead management (online and in house), dialer, websites, just about everything you can think of as if it was specifically designed for that particular customer.
Marksman Insider Tip: Play around with it (Marksman) as much as you can. Learn everything you can so you can help increase revenue. Don't hesitate to contact support to ask questions and help you maximize Marksman's potential for your business.
To learn more about Marksman, you can click here.