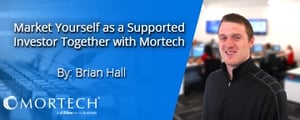 We wrote recently about why you should become a supported investor with Mortech's mortgage pricing engine. We included a number of reasons, chief among them being the national footprint you have access to, with the ability to control who can and can't see your products. Once you become a supported investor and want to let all those people know your products are available though, how do you market yourself?
When you become a supported investor with Mortech, we make it easier than ever. We create custom marketing messaging for you, and allow you to change and edit the content as you see fit. We build the framework and how to present the information, and you decide what information you want to show. It's that easy.
Concerned about who you might be marketing to? Don't be. We can also filter your messaging, so it's only sent to the region or borrowers you want. No matter if you want your products across the country, or sent just to one set of lenders, Mortech can take care of that for you.
Becoming a supported investor for a pricing engine can be a big decision. Knowing how you should market yourself and to whom should be a factor in your choice. With Mortech, you don't have to worry about marketing yourself to our users. We've got you covered.
To find out more, contact us today.