Tee off with us as we take you through nine holes of the mortgage process, and find out if your mortgage business is up to par.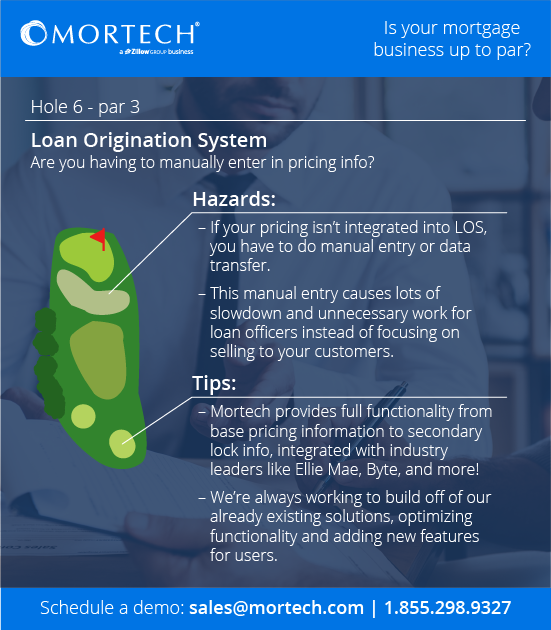 As the mortgage world speeds up, technology continues to advance, and processes become more condensed, spending your time the right way is crucial. With the number of tools and resources available to lenders, spending excessive time on something that could easily be resolved by implementing the right solution to expedite the process can be a huge detriment to mortgage businesses.
A big hang-up for a lot of lenders is the absence of a pricing integration into their current resources or daily processes. This can be especially true of Loan Origination Systems; failing to have pricing integrated directly into the system creates the need to manually enter in the pricing data, or manually transfer it from the source. This creates a lot of excess work for loan officers, who have to focus their time on getting their pricing data squared away instead of putting their energy toward selling to their customers.
With Mortech's mortgage pricing engine powering your pricing data, you need not worry about having to spend your time handling the pricing data manually. Our pricing engine offers full functionality from base pricing information to secondary lock info. These features are all integrated into industry-leading LOSs like Ellie Mae and Byte, making them as accessible as possible. With Mortech APIs, data and workflows for pricing can easily be integrated into your LOS of choice.
What's more is that we're always working to make these products better, adding new features and making enhancements not just on our own, but with your valuable feedback. Working together, we can build off the foundation our pricing engine has set, and continue to build a product that provides your business with the tools it needs to automate and expedite processes, and keep you focused on what's really important.
Want to find out more about Mortech's mortgage pricing engine, LOS integrations, and all that we can offer you? We'd love to talk with you about how we can make your business better. Going to MBA Annual in Denver later this month? Stop by booth 1103 at the show and see us there!