Tee off with us as we take you through nine holes of the mortgage process, and find out if your mortgage business is up to par.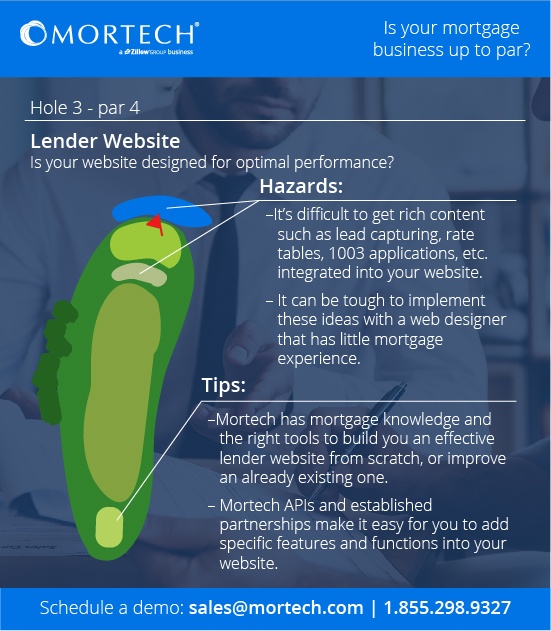 The first objective for successful online quoting is obviously to get your rates online. However, lenders often overlook the importance of also having a functioning, well-crafted mortgage website.
Putting your rates online to various lead sources is the best way to generate online leads, sure, but it isn't the only way. We've mentioned before that nine out of ten borrowers use an online resource at some point during the borrowing process; that doesn't always mean to find mortgage rates. Borrowers could be looking for a mortgage calculator, or be searching for local lenders with positive reviews. Having a sleek, functioning mortgage website with different tools and resources – not just your rates – both increases your online presence for these borrowers, and creates an image of a company that provides top-to-bottom mortgage services.
Getting that website up and running can be difficult, though. Unless you have someone on your team with the knowhow to build one, odds are you're going to have a tough time creating one that's functional and visually reflects your brand. This could cause you to resort to contracting someone to build it for you. The problem then becomes finding someone to build your website that actually has the mortgage knowledge to make it so that your site is providing the rich content it needs to be an asset to potential borrowers.
With Mortech, you can get a sleek, functioning website that's backed with years of industry knowledge and experience. We can implement the things online borrowers will look for in a website, while also keeping the design fresh and clean, and providing the rich content your website needs to be an online leader in mortgage resources. You don't have to worry about the product being subpar from a mortgage standpoint, and you don't have to worry about how it might look.
Already have your own site? Not a problem. Mortech's APIs and established partnerships make it easy to plug in a specific tool you might want or need, without having to rebuild your whole site from scratch. If there's a tool or specific resource you want plugged into a part of your website, you can simply use a Mortech API to test and implement it right where you want it to go.
Online presence has never been more important in the world of mortgages, and while having rates online is a great first step, having a mortgage website that acts as an online borrower's toolbox is incredibly important. Talk with us today about how Mortech can build or upgrade your mortgage website and wow your online borrowers.