Tee off with us as we take you through nine holes of the mortgage process, and find out if your mortgage business is up to par.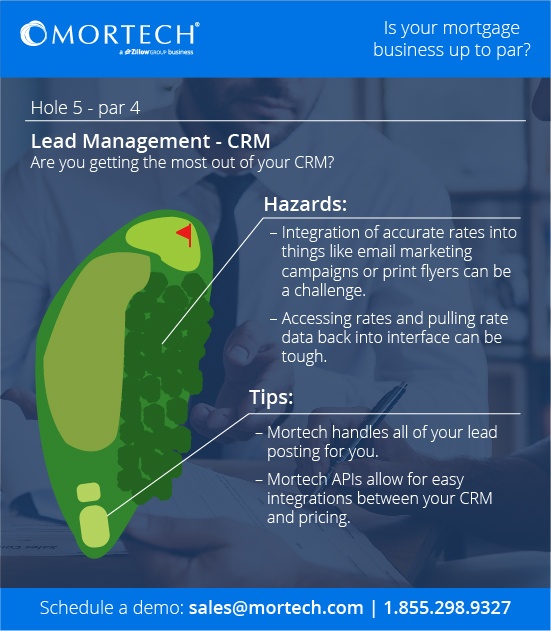 You've worked hard up to this point capturing leads; you've put your rates online, cast a wide net to bring in online borrowers, and the hits are finally coming in.
So…now what?
Getting leads to come in is one thing, but if you don't have a lead management system in place to handle the volume, keeping up with them all is going to be a challenge. Continuing to market to a lead after it comes in is a vital part of the conversion process – if you don't keep in touch with them, they can easily drop off and find someone else. This can often include sending current, accurate rate information through marketing materials, which means you'd need to have access to that data in the first place.
Mortech makes it easy, though. Our mortgage pricing engine is integrated into a number of different CRMs and lead management systems in the industry. As soon as a lead comes in, we can automatically post that lead for immediate follow-up within your CRM or lead management system of choice, which means no worrying about making sure your leads are coming in. You can focus on what you're going to do once they do, and leave the backend posting to us.
Another major hurdle when it comes to CRMs is the disconnect a system can often have with mortgage pricing. Mortech has found a solution for this through the use of our mortgage APIs. By utilizing our APIs and integrations we've developed throughout the industry, lenders can seamlessly close the gap between pricing and their CRM, creating a flow of information back and forth that's fast, accurate, and keeps them on top of their leads.
Looking to integrate rates into marketing materials? With Mortech, and our integrations with companies like Velocify and Vantage, you can include rates in things like customer email campaigns, open house flyers, post cards, and more. Don't limit how you can market to leads based on the limitations of your current system; let Mortech's pricing engine and integrations open up new opportunities for your business to reach out!
Whether it's needing to bridge the gap between pricing and CRM, or simply looking for a better way to market to leads, you owe it to yourself to have pricing that works with your CRM and keeps all of your leads in check. With Mortech, you're getting a system you can rely on and tools that you can use to better your business. To find out more, reach out to us and let us tell you all about how our mortgage pricing engine, APIs, and CRM integrations can help you.