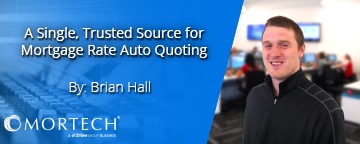 We often talk about the importance of putting your rates online. Doing so gives your business exposure to thousands of online borrowers, on a platform that is still growing and completely changing the way the entire mortgage industry operates. Our online auto quoting tools are one such way that you can gain that increased exposure for your business. Mortech is the trusted source to provide mortgage rates to sites like Zillow, Lending Tree, QuinStreet, and Smart Asset, processing millions of transactions daily across those marketplaces. And as more transactions happen and more online borrowers are exposed to your business, people start to take notice.
Earlier this week, LendingTree released their "Top Mortgage Lenders List" for Q3 of 2016. The list is created based on a ranking through set criteria, such as mortgage rates, customer service, the overall experience for the customer, and other, similar factors. Of the top ten companies on the list, which can be found here, seven have their pricing provided and rates auto quoted online through Mortech. It's a testament to those companies' effort toward being a top-tier mortgage provider for borrowers, and for us, it's great to help provide the tools they use to reach that level, to the point that they're getting noticed across the industry.
You can look at the numbers – Mortech processes millions of rate requests everyday – but also what lies outside of them. When a company commits to providing the best service, technology, and customer experience that they can, they look for the best tools to help them accomplish those goals, and at Mortech, we've got what those companies need.
To find out more about how you can have your mortgage rates pushed online to thousands of borrowers every day, contact us today, and we'll talk with you about the tools Mortech can provide to create that experience.