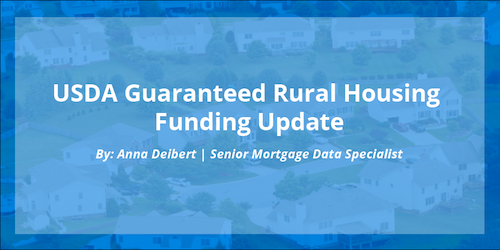 On September 14, 2020, USDA released a bulletin stating that the funding for USDA's Single Family Housing Guaranteed Loan Program will be temporarily unavailable for approximately two weeks beginning on October 1, 2020. At the beginning of each fiscal year the funding is not available for a short period of time and the USDA anticipates this brief lapse to continue for Fiscal Year 2021.
During the temporory lapse, the Rural Housing Development will issue Conditional Commitments "subject to the availability of commitment authority" for purchase and refinance transactions. In order for purchase transactions to be eligible, lenders will be required to provide the Conditional Commitments Form RD 3555-15/18E.
Additionally, purchase transactions will be required the Loan Note Guarantee as a post-purchase stipulation. The upfront guarantee fee of 1 percent and an annual fee of 0.35 percent will continue to be assessed for Fiscal Year 2021 to all USDA loans.
Further details on fees and the Conditional Commitment can be found here: https://content.govdelivery.com/accounts/USDARD/bulletins/29bc9fa