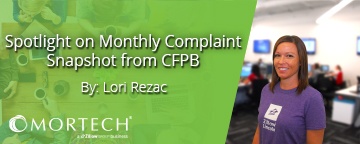 Mortgages had the spotlight in the Consumer Financial Protection Bureau's (CFPB) monthly compliant snapshot. Many are experiencing problems with mortgage servicing, escrow accounts, and resolving loan problems.
More than 80 percent of the mortgage complaints came from consumers experiencing problems making payments. Also, money applied to escrow accounts was not applied correctly, resulting in an increase in monthly payments. Consumers also experienced issues with trying to negotiate foreclosure-relief assistance. Servicers were slow to respond, asked for documents the consumer already submitted, and were not clear on denial reasons.
Over a million complaints have been handled by the CFPB through January 1st with approximately 23,000 in December alone. Coming in third for the month of December, mortgages had 3,762 complaints. This is just behind credit reporting complaints at 3,837. The number one most complained about financial product or service in December was debt collection at 7,196.