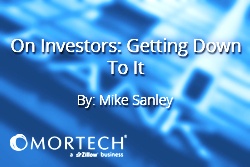 As the wave of investors continues to move toward getting as granular as they possibly can with pricing, are they limiting the lenders overall options? As we see the new wave of investors going to customer specific pricing or the push to see who can have 100 rate sheet versions and regions, are we getting to where you send 90% of your volume to one investor to get the better incentive pricing? Granted there are a lot of other factors involved other than how much volume you send their way such as service, relationship, pass-through, etc.
As we see the shift over to very granular and specific pricing for each lender, are investors also limiting how much business they receive from a lender? Out of your pool of 7-10 investors you are approved with, are you using 1 or 2 of them for a vast majority of locks so you get the better incentive and leaving your other investors to sit idle, limiting the middle of the road investor to beg for your business? Two years ago it was only a hand full of investors using this pricing method and we are quickly getting to 20% of the 175 investors we run up daily that have taken in that model.
As this gives great flexibility to the investor, we can only hope it doesn't over complicate what they are trying to accomplish.
Investor Updates
Ditech has discontinued the Freddie Mac Eligible Texas Home Equity ARM products. They have also updated their pricing on cash out and investment properties for conforming loans.
Chase has made updates to their pricing, including added parameters for LMI Enhanced Pricing in California Counties, a pricing special in New York Counties, and Escrow SRP Adjustments.
Sierra Pacific is offering a .50% price improvement for conventional high balance loans as well as enhanced LPMI pricing.
Connective has made changes to their conforming and high balance LLPAs, as well as changes to their jumbo and jumbo95 products.
Farmington has updated their guides.
Nationwide has added Arch Mortgage Insurance to their list of approved mortgage insurance providers. They have also updated the PUD topic of the seller guide for conventional loans.
Endeavor America has announced their superior pricing in the Zone 2 rate sheet now includes Illinois and Georgia. They have also included a pricing improvement on NJ, NY, and PA properties.
Redwood has updated their FHLMC Program Eligibility Guide and FNMA Program Eligibility Guide.
Wells Fargo has updated their condo adjusters, effective May 18, 2015.
Sierra Pacific is allowing Community 2nds on the MyCommunity Mortgage program.
Stearns has updated their Correspondent Quick Reference Guide.
Titan Capital Solutions has published a new seller guide, effective May 25, 2015.
New Penn Financial is now allowing Texas 50(a)(6) loans in the Jumbo Advantage product.
Pacific Union has updated their SRPs, effective May 18, 2015.
NYCB is updating their loan level pricing adjustments as well as their seller's guide.
Caliber has removed their Non Agency Fresh Start product.
PHH has updated their FHA underwriting guidelines.
HomeBridge Wholesale is including a .625 pricing enhancement on their Non-Credit Qualifying FHA Streamline product.
M&T is adjusting their rate sheets to update the new pricing grids that FHLMC and FNMA has provided, effective May 27, 2015.
CMG has updated their Wholesale rate sheet.
Freedom Mortgage is making changes to their patriot program as well as changes to their LLPAs.
First Guaranty Mortgage is updating their FGMC Correspondent 1x Close LLPAs.
Suntrust is updating their Agency product guidelines to align with recently announced Fannie Mae and Freddie Mac updates, effective May 29, 2015.

Each week we blog about investor updates and happenings in the mortgage industry.