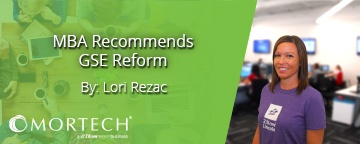 The Mortgage Bankers Association (MBA) has released a paper, GSE Reform Principles and Guardrails, with their recommendations on Fannie Mae and Freddie Mac (the GSEs) reform. The reform of the GSEs being one of the last items left over from the financial crisis, the MBA has put together a Task Force to determine the best course of action. The Task Force itself was created using MBA member companies of various sizes and models, representing a broad range of real estate entities.
Benefits and drawbacks were considered with numerous potential models. The preferred end-state chosen includes encouraging multiple guarantors organized as privately-owned utilities with a regulated rate of return, according to the announcement on the MBAs website. A newly created insurance fund would include an explicit federal guarantee on eligible securities. The entities issuing the guarantees would be tasked with providing sustainable credit availability to both the single family and multifamily mortgage markets.
The full strategy will be elaborated on in a full paper anticipated to be released in April. The full paper is expected to address multiple issues including ensuring lenders of all sizes and business models are provided the same market access.