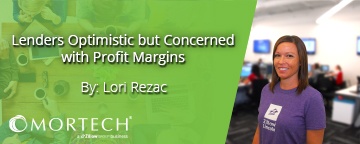 Mortgage rate increases, along with the additional rate increases expected later this year, are impacting expectations for purchase mortgage demand. According to Fannie Mae's first quarter 2017 Mortgage Lender Sentiment Survey®, lenders are optimistic about the direction of the economy and home prices, but are showing concern over profit margins compared with previous years.
Lenders are citing concerns with competition from other lenders and the market shift to purchase from refinance for this response. Increasing rates also indicate an expected decrease in refinance activity, which may require lenders to adjust their production capabilities and staff resources.
There has been a modest net easing of credit standards reported, most likely in response to the increased rates. Most expect their credit standards to stay the same looking forward to the next three months.
Conducted in early February, the survey polls senior executives of its customers quarterly to get their views on the mortgage market. Additional resources for the Mortgage Lender Sentiment Survey® are available at FannieMae.com.