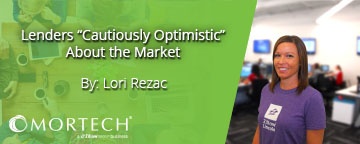 The Fannie Mae Q2 Mortgage Lender Sentiment Survey® has been released, showing positive lender attitudes overall; a recovery from a decline in recent quarters. Most lenders reported an expectation of credit standards to remain unchanged with very few expecting an ease of credit standards from the GSEs over the new three months.
"Key survey sentiment indicators suggest that lenders remain cautiously optimistic in their market outlook," said Doug Duncan, senior vice president and chief economist at Fannie Mae. "The outlook for purchase demand growth over the next three months returned to levels similar to last year, while the outlook for refinance demand and profit margin improved moderately versus last year's levels."
Other highlights of the survey include:
Purchase mortgage demand remains unchanged from a year ago.
Refinance mortgage demand is expected to decrease over the next quarter.
A moderate easing of credit standards reported in the previous months is expected to dip.
Overall stability expected.
The survey is conducted on a quarterly basis to assess views and outlook across varied dimensions of the mortgage market. Detailed findings are available on the Fannie Mae Mortgage Lender Sentiment Survey page at fanniemae.com.