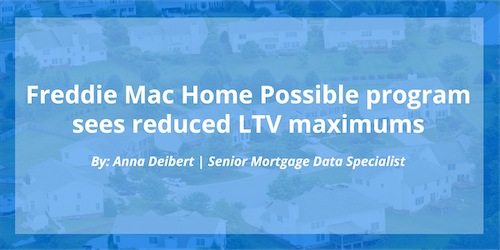 On December 2nd, 2020, Freddie Mac announced that they will be implementing reduced loan-to-value (LTV) maximums to the Home Possible program. Their December bulletin stated that this change will be effective on April 1, 2021. The Home Possible amendment largely affects 2- to 4- units for conforming loan limits.
The changes affecting conforming loan limits include:
Fixed Rate loans

Maximum LTV will decrease from 95% to 85% on 2 to 4 units

Adjustable Rate Mortgages

Maximum LTV will decrease from 95% to 85% on 2 units

Maximum LTV will remain at 75% on 3 to 4 units

1-unit LTVs and all super-conforming loan limits will remain unchanged

All units with Secondary mortgages

Total loan-to-value will remain unchanged
A few other noteworthy changes to the Home Possible program include:
We are already seeing lenders move towards the more restrictive LTV's now rather than waiting until April. Some lenders have already sent Mortech requests to make these changes in Marksman. Don't hesitate to reach out to your Customer Success Manager with any questions on these program changes.