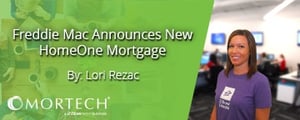 A new conventional product option has been announced by Freddie Mac and will be available starting July 29, 2018. The HomeOne mortgage is similar to the Home Possible Advantage option currently offered by Freddie Mac, but will be focused on first time homebuyers. This is a low down payment option with a down payment requirement of only 3 percent and requires no geographic or income restrictions.

Additional eligibility requirements include the following:
Allowed on fixed-rate purchase and no cashout transactions for 1-unit properties that are not manufactured homes.
Super conforming loan limits are not eligible.
Purchase transactions require at least one borrower be a first time homebuyer.
No cashout refinances require the mortgage be owned or securitized by Freddie Mac.
At least one borrower on the transaction must have a usable credit score.
If all borrowers are first time homebuyers, participation in a homeownership education program is required.
The Selling Guide and Credit Fees in Price have been update with the new product information to allow stakeholders to review and update their systems with plenty of time for testing before the July implementation date.