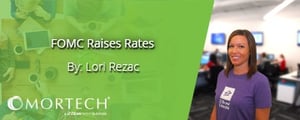 The Federal Open Market Committee (FOMC) recently announced an increase to the target range of the federal funds rate to 1.5 to 1.75 percent. Fed Chairman Jerome Powell in his first meeting as the Chairman of the Federal Reserve approved the increase. This is in response to the strong economic outlook in recent months. The FOMC expects this to continue with gradual adjustments to monetary policy.
Currently, three rate hikes are expected in 2018 but some estimate four increases are possible. The chances of that extra increase are sitting at a 38 percent, according to an article in CNBC. This rate hike is the sixth since the financial crisis.
The Committee is monitoring inflation developments closely but expect it to stabilize at the 2-percent benchmark over the medium term. The additional increases that are expected this year will be dependent on incoming data.