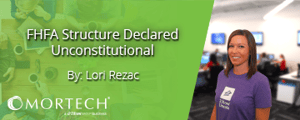 Fannie Mae and Freddie Mac shareholders have brought suit against the Federal Housing Finance Agency (FHFA) claiming the agreement made in 2012 to bail out the agencies is rendering their shares valueless. The suit also claims the structure of the FHFA is unconstitutional because of the single Director removable only for cause by the President.
In the first charge, the shareholders claim that the agreement that allowed the Treasury Department to give the agencies billions of taxpayer dollars in exchange for quarterly dividends equal to their entire net worth, called a "net worth sweep", is in violation of the Administrative Procedure Act (APA) and HERA. The APA is the federal statute that governs how these administrative agencies propose and establish regulation. HERA is the Housing and Economic Recovery Act of 2008 and was created to protect the economy from further damage during the housing crisis.
This first charge has been rejected by the court. The ruling stated that the FHFA acted within their "statutory authority by adopting the net worth sweep" and therefore these actions do not violate APA or HERA.
The second charge claims the structure of the FHFA is unconstitutional and violates HERA. This is similar to claims we've heard against the Consumer Financial Protection Bureau (recently going by the name Bureau of Consumer Financial Protection) and for the very same reason. Having a single Director removable only for cause bypasses judicial review and violates the separation of powers, according to the court document.
The court has affirmed the second charge and declared the FHFA unconstitutional, citing the limitations it puts on the Executive Branch's oversight of the FHFA.
So what now? What happens when a government agency is declared unconstitutional? The court will typically try to limit the solution as to not impact the rest of the law in question. In this case, they have determined to strike the removal for cause language from HERA. This will fix the problem without compromising the integrity of the law.
The FHFA has not commented on the issue. They have 45-days after the judgment to seek a rehearing.