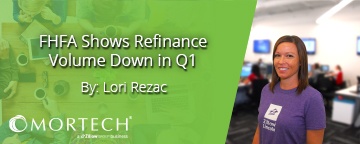 The refinance report released by the FHFA shows that refinance volume was down in the first quarter compared with the fourth quarter of 2016. The possible culprit of the lower numbers is the higher mortgage rates. Mortgage rates are still a half-percent higher than the lowers we saw in 2016.
HARP refinances made up 3 percent of the total number of refinance volume in Q1. Those with LTVs higher than 105 percent made up 19 percent of the HARP loans, with 7 percent of the HARP borrowers having an LTV higher than 125 percent. Nearly a quarter of HARP refinances were for shorter 15- and 20-year terms.
In Nevada and Florida, HARP refinances account for 6 or more percent of all refinances in those states. Florida, Illinois, Michigan, Ohio, Georgia, Puerto Rico, Pennsylvania, New Jersey, New York, and Alabama made of over 60 percent of the nation's HARP eligible loans with a refinance incentive.
This brings the total number of HARP refinances to 3,461,096. According to the news release, there are still 137,594 borrowers who could benefit from the program before it goes away later this year.