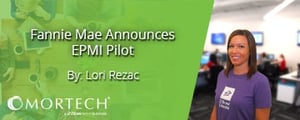 Fannie Mae is piloting a new type of mortgage insurance, however response to the new program hasn't been entirely optimistic.
The mortgage insurance option is called Enterprise-Paid Mortgage Insurance (EPMI) and allows a lender to deliver an over 80% loan-to-value (LTV) mortgage to Fannie Mae without acquiring mortgage insurance prior to loan delivery. Instead Fannie Mae charges an additional loan-level price adjustment. Then, they secure coverage under a forward insurance arrangement from a Fannie Mae approved qualified insurer, or an approved traditional mortgage insurer.
Claims on an EPMI policy are streamlined, according to Fannie Mae. If a loan defaults, the claim is paid after the loss on the loan is known. There is no discretion for the Fannie Mae approved insurer to limit or disallow certain expenses. The pilot also claims to streamline the process for lenders, giving the responsibility of acquiring the insurance, filing claims, and completing monthly reporting to Fannie Mae.
In some cases, a borrower's monthly payment may be reduced by using EPMI. Unfortunately, since the cost is embedded into the note rate, the coverage cannot be cancelled when the LTV reaches 80% like traditional borrower-paid mortgage insurance.
In a statement from the MI group, U.S. Mortgage Insurers (USMI), USMI President Lindsey Johnson said, "Fannie Mae's new EPMI pilot program is a troubling development and heightens the concerns about GSEs' expanding roles in the housing finance system." She continues, "Fannie Mae has moved ahead with a new program that bypasses the high capital and operational standards developed and enforced by the GSEs for private mortgage insurers, despite the fact that these entities are taking the exact same risk."
Fannie Mae is piloting the new offering starting on August 1st to a diverse group of large, medium, and small lenders spanning multiple geographies and business models. The decision to utilize the EPMI option will be made between the lender and the borrower. If it is determined that EPMI is not better option for the borrower, borrower-paid and lender paid options may continue to be utilized. Fannie Mae believes EPMI will be yet another way for lenders to better serve their customers.
Mortech will continue to monitor this new offering and the response from lenders through this pilot phase.