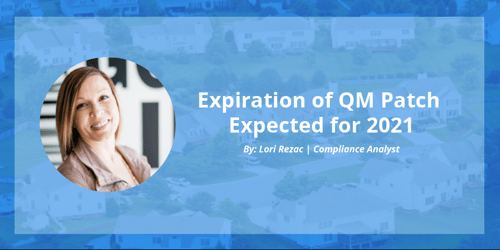 The CFPB is planning to remove the QM Patch that allows loans guaranteed by Fannie Mae and Freddie Mac an exemption from meeting some of the underwriting requirements set forth in the Ability to Repay/Qualified Mortgage rule. The expiration date is set for January 2021, but many think this is not enough time to adjust.
The most notable impact to the GSEs is the 43 debt-to-income (DITI) requirement. The patch allows the GSEs to exceed the 43 DTI requirement but still qualify for safe harbor. For instance, Fannie Mae currently allows up to 50% DTI for many of their products.
The QM patch has accounted for 16% of all loan originations in 2018, according to an analysis by CoreLogic's Pete Carroll. This is an estimated $260 billion in mortgages last year alone.
The CFPB believes the removal of this patch may create a more level playing field that would ultimately provide stronger consumer protection.
The Mortgage Bankers Association has lobbied to have changes made to the rule before the patch expires to avoid leaving borrowers behind, especially since most of those impacted are low- to moderate-income and minority borrowers.
What does this mean for lenders? Fewer mortgages will qualify as a Qualified Mortgage after the patch expires in 2021 if the regulation stays as it is. This may lead some to explore the possibility of offering non-QM mortgages to better serve their borrowers. Those unable to take on the added risk of offering non-QM mortgages may want to make their voices heard by providing feedback during the comment period.