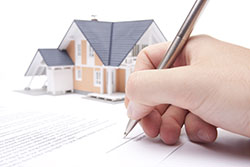 There always seems to be some confusion over the definitions for "closing costs" and "prepaid finance charges" as they are relevant to mortgage lending. Closing costs are any costs that are paid in connection with a mortgage transaction besides the purchase price (or pay-off of the current mortgage(s), if a refinance) by either the buyer or the seller. Closing costs are all disclosed at the loan closing on the HUD-1 settlement sheet as required by TILA (Truth in Lending Act).
Prepaid Finance Charges, per the Federal Reserve Board, are the costs of consumer credit as a dollar amount. It includes any charge payable directly or indirectly by the consumer and imposed directly or indirectly by the creditor as an incident to or a condition of the extension of credit. It does not include any charge of a type payable in a comparable cash transaction. All prepaid finance charges directly affect the APR (Annual Percentage Rate) on a mortgage loan, whereas the rest of the closing costs do not. All prepaid finance charges are closing costs but all closing costs are not prepaid finance charges.
An example of a prepaid finance charge: in a cash transaction the cost of an appraisal is $300 but the same appraisal fee would be $400 in a credit transaction (one that involves a mortgage loan)—the difference of $100 would be a finance charge. Charges imposed uniformly in cash and credit transactions are not finance charges.
Here is a chart for common closing costs and finance charge:
Fees paid by the Borrower

Exclude (Does not affect APR)

Include (Does affect APR)

Administrative Fees (include)

X

Application Fee (not for appraisal or credit report)

X

Amortization Schedule Fee

X

Appraisal/Appraisal Review Fee/AVM

X

Assignment Fee

X

Assumption Fee

X

Attorney Fee (Except for the portion that may be for the closing)

X

Commitment Fee

X

Courier Fees paid to lender (includes if paid to a third party)

X

Credit Report

X

Discount Points

X

Document Preparation

X

Escrow Waiver

X

Final Inspection Fee (if performed by the original appraiser and is not required to complete a loan disbursement or draw)

X

Flood Certification / Life of Loan Coverage

X

Funding Fee (as on a VA or as a misc. fee)

X

Hazard/Flood Insurance Premiums

X

Inspections required to complete loan draw

X

Interest Adjustment

X

Mortgage Broker Fees

X

Notary Fees

X

Origination Fee

X

Pest Inspection

X

Points/Fees paid by Seller

X

Private Mortgage Insurance & Renewals

X

Processing Fee

X

Realtor Fees

X

Recording Fees

X

Settlement/Closing Fee (Varies by lender and state)

X

Survey

X

Tax Escrow

X

Tax Service Fee

X

Title Co. Processing Fees (Insurance, Exam and Abstract)

X

Underwriting Fee

X

Well and Septic Inspection

X

Wiring Fees

X
For more information on Mortech's mortgage software solutions, schedule a free consultative demo.