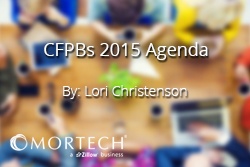 As a part of the federal government's Unified Agenda of Regulatory and Deregulatory Actions, the Consumer Financial Protection Bureau (CFPB) is required to publish a semi-annual update of their rulemaking agenda. Below are the major initiatives that will be addressed this year in the mortgage industry:
Updates to the Home Mortgage Disclosure Act (HMDA) are in process of being finalized. The final rule is due out towards the end of summer.
The Truth in Lending Act (TILA) and Real Estate Settlement Procedures Act (RESPA) is still on course for an August 1, 2015 implementation date.
Clarification and amendments will be released as warranted for the mortgage reforms issued in January of 2013.
A proposal for lenders who operate predominantly in "rural or underserved" areas is expected to be final in the fall of 2015.
Many of the rules are being updated to align with existing standards which will assist in the enforcement and implementation of these rules. The next update is due out in the fall.
We look at industry happenings and updates every week.