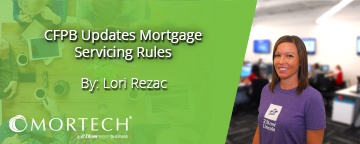 In 2014, the Consumer Financial Protection Bureau released servicing rules that require servicers give troubled borrowers access to servicing personnel, credit payments in a timely manner, and correct any errors on request. Since those rules have been issued, the Bureau has continued to study how they are working in the market. Using that research, updates were proposed to make the rules more effective. After feedback from those effected by the rules, updates have been finalized.
The updates include:
Communication requirements through the loss mitigation process.
Servicers must now let a borrower know when their application is complete. This helps the borrower to know when certain protections begin. Also, those who have received help in the past may be eligible to receive help again.
Successor in interest protections.
For those who acquire ownership rights to a home, more protections are provided by the rule. Servicers must provide successors in interest with information regarding the documents required to confirm their status. In addition, notices and documents that would be received by the original borrower must be provided to the successor in interest.
Statements or early intervention loss mitigation information provided to those in bankruptcy.
These statements must include specific information tailored for bankruptcy, as well as information regarding loss mitigation options.
The updates are finalized and will go into effect once servicers and others in the industry have time to update their systems.