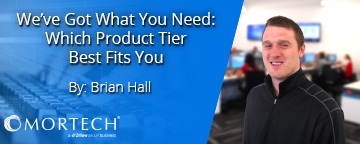 Here at Mortech we're firm believers in not forcing our customers to have to use a bunch of tools and integrations that they don't want or need. Additionally, we don't think you should have to pay for these unused features either. That's why we've created several product subscription tier options; to ensure that you're getting all of the features you want in our system, and don't have to slog through everything you don't.
No matter which tier you choose, certain constants will remain. All of our tiers allow you to quote your rates to thousands of borrowers every day, and provide you with lead management tools so that once a prospect comes into your pipeline, you'll be well-equipped to handle any and all things they might need. Not only that, but we also provide advanced CRM tools to all of our product tiers as well, giving our customers access to features like automated email marketing campaigns and the dynamic pipeline, which can be utilized to maximize relationships with current and potential borrowers.
What if you want all of that and more? Maybe you're looking for the ability to track rates and notify prospects when they change? Our Professional Tier allows you to access custom rate trackers, integrate your account with certain loan origination systems, and the option of custom lender websites. It also gives you access to our dialer system, allowing your team of loan officers to work together so that they never miss a prospect.
Maybe you need a hedging integration, as well as the ability to generate custom reports so that you can review and improve your LOs progress. Our Secondary Tier allows for you to not only use all of the previously mentioned tools to reach out and grow relationships with prospects, but gives you the ability to see reports of your efforts and find ways to keep your business competitive and always doing its best to bring in more, high-quality leads.
We also offer a Multi-Channel Tier, which allows for different retail, correspondent, and wholesale channels to be centralized and streamlined into one secondary desk, which unifies and simplifies the process for everyone involved. This tier also allows for TPO management and rate sheet generation, which puts your LOs in the driver's seat throughout the process.
So whether you need to streamline multiple channels, track current rates and historical pricing, or just start quoting online, Mortech has the tools you need, and doesn't weigh you or your wallet down with what you don't. Find out today which product tier is the best fit for you, and let us help you get your rates to more potential borrowers in seconds.