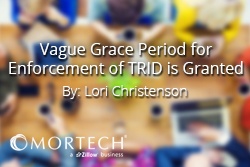 The industry may now breathe a little easier when it comes to the Consumer Financial Protection Bureau (CFPB) enforcement of the TILA/RESPA Integrated Disclosure Rule, which was finalized in November 2013. CFPB Director Richard Cordray sent a letter to members of Congress stating the CFPB "will be sensitive to the progress made by those entities that have squarely focused on making good-faith efforts to come into compliance with the Rule on time."
The letter sent by Director Cordray also emphasized the steps the CFPB has taken for smooth industry implementation, including:
Guides and resources provided prior to the Rule's implementation date.
Amendments and updates that have been made due to industry requests.
Webinars that have been conducted for guidance on interpretation and implementation.
When this leniency may end is not specified, but the letter noted the implementation of the Title XIV mortgage rules in early 2014 as an example of this approach, which worked out well. The CFPB will also continue to provide guidance for industry stakeholders well after the October 1st implementation date to support a smooth transition.
We look at industry happenings and updates every week. You can find last week's blog post here.