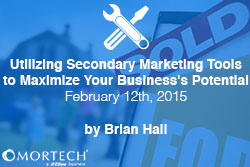 Here at Mortech, we want to give you more than a pricing engine, because we know that it takes more than the bare essentials to get ahead in the mortgage business. That's why we also provide secondary desk tools that allow you to maximize your loan processing workflow, while also giving you the freedom and customizability to control everything that you have.
Through the use of our Historical Pricing functionality, you can compare multiple loan scenarios and save time and resources when re-pricing locked loans. According to statistics compiled internally from within Marksman, the average mortgage institution has to re-price 540 loan files a year. If you were re-pricing each file at an average rate of 20 minutes per file, which is a best-case scenario for manual re-pricing, it would still take you nearly 200 hours every year. However, with Marksman, all of these files can be re-priced in under a minute for each one, meaning that instead of spending nearly 200 hours, you're only spending nine.
With Mortech's Secondary Marketing tools you can manage your lock pipeline, which improves visibility and management reporting efforts, and we'll also provide custom reporting, which allows for vital statistics to be presented to you via custom templates and criteria that you can pick and choose. All of this comes complete with internal communication tools that allow you to unify your secondary desk and loan officers.
To find out more about the
secondary desk tools
Mortech can provide you, you can click here, or better yet,
schedule a free, consultative demo
today.