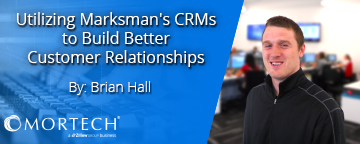 As 2015 ends and 2016 approaches, the mortgage industry is seeing a drastic shift with a much greater focus on customer relationship management in years past. As this year comes to a close, more and more companies are buying and utilizing CRM solutions to better equip themselves with the right tools to build the best relationships with their customers.. At Mortech, we've understood the importance of CRMs for quite some time, and as a result, we've been working to build tools within Marksman that help build strong, lasting relationships between lender and borrower. And the best part: they're available to every single one of our customers.
Our Dynamic Pipeline is the first step toward building strong customer relationships, and acts as a dashboard to monitor several different activities that are important for managing those relationships. It provides information on new prospects, your most recent prospects, and current-day appointments with any prospects that have been set. The order that all of this information is displayed is completely customizable, and allows you to streamline your loan officer's workflow that best fits them. It can also be made the default homepage from within your settings, allowing your new and current customers to be the first thing you see and monitor when logging into Marksman.

We also provide Rate Trackers, a tool designed to keep customers aware of any movement in the market that are specific to the individual prospect scenario. These can be customized to either alert your prospect directly of those changes, or alert your loan officer as a reminder to follow up with the potential borrow with regards to the changing scenarios. The former can provide real-time updates to the prospect, so they're always in the know as soon as something changes, and the latter allows for loan officers to build better relationships between themselves and the prospects. This provides a better experience for your borrowers. Both are important aspects of CRM, and the prioritization of either really just depends on what you want you and your LO's focus to be in in regards to relationships with prospects.
Another service Marksman provides are email campaigns, which allow you to set up drip marketing campaigns to engage with your clients and always ensure that the loan process stays in motion. This is a great way to keep in communication with your borrowers, and make sure that they're happy with the current process, and keeps prospect in the know and excited about their home loan. Complete with your company branding, these campaigns act as a friendly and consistent point of contact with prospects and help ensure their satisfaction.
These are just a few of the robust CRM tools Mortech and Marksman provide to all of our customers, and with them, they're building happier, better, and lasting relationships with prospects across the board. If you're a current Marksman user, and want to know how to better utilize all of these tools, you can contact your current Marksman account manager, or a member of our support team, to better understand and use these features. Or, if you're wondering how to gain access to Marksman and its variety of tools that help your business, you can sign up for a free demo with us today.