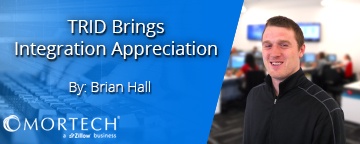 The MBA Annual Conference is now behind us and, with all things in the industry over the last several months, TRID was the dominant topic of discussion. There are the general questions: How is the implementation going? What issues bankers are facing moving forward? However, there are some higher-level concerns as well. Bankers are wondering if they're digital enough to deal with all of the headaches some have experienced thus far, or if the new people brought into businesses in preparation of the implementation are short-term hires, or if their terms with companies need to be extended.
With all of these questions and concerns bouncing around the brain of just about every mortgage and banking professional, it's understandable to be worried that you're not well enough equipped to deal with all of the issues TRID, as a whole, can represent. Furthermore, having to adjust and adapt to new regulations can cause a lot of issues across the board for business that aren't prepared. As a result, a lot of businesses have scrambled to come up with solutions for all of these new headaches and hassles, which can throw even more problems onto the pile. However, there's a simple solution for all of the issues, and it doesn't require reinventing technology that other companies have already perfected: integration.
HousingWire recently wrote an article on the idea that "regulatory and market pressures could force increased collaboration" in the industry. While this is certainly true, the idea that it's "forced" is more a matter of overall preparation and foresight on behalf of businesses. For years Mortech has easily integrated with other companies, all with the idea that they provided something that made our customers' lives easier, and that we, in turn, could provide them with our data to better help their business. These integrations worked because we created a system in which the data can be easily accessible within these integrations, which saves a lot of time and resources throughout the process. Furthermore, it allows for adaptability when industry changes like TRID comes along which would otherwise force businesses into changing or integrating, and provides a more seamless transition.
What occurs, then, is a much simpler process for us, the companies we integrate with, and most importantly, our customers. We don't have to spend time trying to recreate technology that our partners have already perfected, and instead can simply work to provide the data that they need in an easily accessible manner. This ultimately results in a synergy that allows our users a much better and easier experience, no matter the regulation or change. To find out more about what Mortech and our partners can provide you, contact us today for a free, consultative demo.