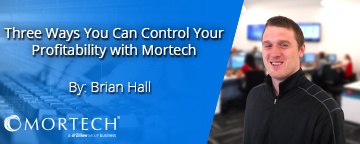 Taking control of your loan profitability, or making sure that you're making as much money per loan as possible, should be the priority of every lender. We previously wrote a blog on how keeping your profit/cost adjustments within your pricing engine is such a crucial part of that. But managing those adjustments is just a single way, and barely scratches the surface of what Mortech's PPE can provide you. Mortech provides several ways in which our users can take their loan profitability into their own hands. Here are three such tools that Mortech users can access and utilize.
Rounding Profits
One of the easiest ways to control your profitability is by controlling the profit for each specific loan, something that our rounding pricing tool can help with. Say a loan is pricing at 100.600. With rounding profit, the loan would instead price at 100.500, which allows for a small margin of the profitability to be sent back to the lender automatically.
With rounding profit, our lenders make just under $100 dollars per loan, which adds up to an average of $11,800 dollars per month. This allows lenders to better control their profitability, without having to raise the rate for borrowers, which allows for increased profitability at no expense to the lender or the borrower.
"Just Missed" price
Sometimes pricing loans to ensure you're always making a profit means offering higher rates. This can, in turn, cause a borrower to explore other options from different lending institutions, causing you to miss out. However, with "Just Missed" pricing, lenders can remain competitive by offering lower rates at minimal expense to the overall profit of the loan.
For example, if a loan is pricing at 99.995% profit instead of 100%, but the rate is low enough that a borrower would rather take that loan, lenders utilizing "Just Missed" pricing can offer that rate to them, taking a small profit loss, but getting the loan for the long run.
Temporary price increases
Mortgage rates can change at the drop of a hat, and sometimes getting updated rate sheets online to reflect these changes can take some time. That opens up a window in which a lender could lose borrowers if their rates aren't updated right away. Fortunately, with Mortech you can take advantage of temporary price adjustments. If the market is fluctuating and you want to change your prices before you can send over an updated rate sheet, our mortgage pricing engine allows you to do just that. This ensures that you're never missing out on the opportunity of landing an online borrower simply because of the latency between a fluctuating market and sending over an updated rate sheet.
These are just a few ways in which Mortech allows lenders to control their loan profitability every day. To find out more, schedule a free demo to learn about how we can take your business to the next level.