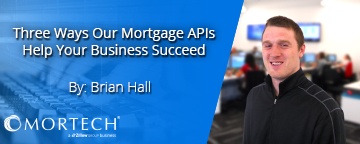 Another MBA Annual conference has come and gone, and this year we heard a lot of talk about mortgage APIs and how they're becoming more and more prevalent in the consumer mortgages and B2B space. Mortech's mortgage APIs are something we've talked a lot about recently, and our reasoning for doing so is simple – by utilizing these tools, our lenders' businesses can improve their user experiences and day-to-day processes. This comes down to three simple reasons:
Our Mortgage APIs are easy to implement and easier to use.
Part of what makes APIs such a valuable asset for a mortgage business is the relative ease with which they can be integrated and used. All of our Mortgage APIs come with implementation guides that walk you through the process, and we also provide an interface within which you can test the API before website implementation, allowing you to make sure the API does exactly what you want it to, how you want it to. By integrating the pricing data into your platform, you can utilize that data any way you see fit, and create a user experience that's customized to the company's needs, and is built into the company's website.
Once built-in, the integration is seamless. We know that limiting the number of interfaces you need to click through is a top-priority, as it saves time and allows you to focus on other, more important tasks. Our mortgage APIs give you easy-access to a suite of mortgage tools, all available within your current interface, empowering you with a streamlined platform with integrated data on an interface built to suit your needs.
Whatever your needs, we have an API for that.
It isn't just about how easy it is to implement and use an API, but making sure what you have does exactly what you want. Mortech has a suite of API tools designed to fulfill exactly the thing you need, and let you build your optimal experience. Among our APIs are:
Investor rate sheet pricing
Online rate advertising
Detailed loan scenario pricing and eligibility
Mortgage Lead Delivery
Mortgage CRM, Point of Sale, and LOS interaction
These are just a few of the options we provide; we also provide APIs for needs and services outside the norm, and strive to give our lenders exactly what it is they need to succeed.
Our APIs provide, and handle, volume.
Of course, utilizing rate quoting APIs is only useful if they can provide quote volume, do so with quick response times, and are capable of handling that volume on a daily basis. Fortunately, Mortech's APIs are more than able. Our rate quoting APIs have that capability of processing millions of quotes every day, allowing you to focus on nurturing your leads and close more loans, instead of worrying about have to process your leads every day.
Still not convinced? Find out for yourself. Contact as today to learn more about our mortgage APIs, what they can do for you, and how we can help improve your business.